Coaching lays the foundation for meaningful communication that makes an impact
Even when we provide authoring services, coaching often plays a role. Through strategic questioning, we help you:
Get a fresh, intimate perspective on your target audience
Articulate abstract concepts in simple, concrete terms 
Tap into the emotions and goals that make your audience tick
Develop a persuasion strategy to convince your audience to change their perspective or take action
Spot and repair gaps or inconsistencies in your thinking
Successful coaching helps you access and articulate brilliant thoughts you didn't realize you had.
Our Method
You know the old adage: you can't improve what you don't measure. So we always start with an in-depth assessment of the communication product you're working on.

From there, we recommend a revision strategy, specific steps you can take to express your ideas more clearly and persuasively.

If you'd like, we can also stick by your side as you rewrite, reassess, and continue to polish until your text and visuals say just want you want them to mean, in ways that resonate with your audience. (Iterate is our middle name.)
Clarity Assessment
A detailed written assessment that, as one of our clients says, goes both "a mile wide and a mile deep." To help you interpret our comments, we also include a short overview video.
Revision Strategy
How will you act on the questions and comments raised in the assessment? We'll provide a roadmap so you can break down the big task of revision into small, doable steps and checkpoints.
Rewrite Till you Get it Right
The last mile of the race is when you really need a coach on your side. As you revise your communication product, we'll help you keep your overall goals in mind and get critical perspective on your work. We're your antidote to tunnel vision!
Precise feedback to help you overcome your blind spots
Dawn is a writing mentor who leverages her background as a professor to provide detailed, structured feedback. I had expected her feedback to be general points about strengths and weaknesses. Instead, Dawn went above and beyond to provide a scorecard and piece-by-piece comments on my writing. That level of objective feedback helped me overcome blind spots that I wouldn't have caught otherwise.

Hayden Cole

Sales professional
Ready for personalized feedback to help you get past communication roadblocks?
A Clarity Assessment will enable you to:
Identify specific strengths you can build on
Zero in on THE key message you want to get across
Spot jargon and conceptual "black holes" that nonexperts could fall into
Create a clear thought-path for your audience

Recognize patterns of expression that could be confusing to your audience
Use graphic design to convey your meaning
Streamline your creative process so you create more effective communication products more quickly
Book your Clarity Assessment
You can get your assessment through a live (Zoom) conversation OR via email.
For just $249, you'll get a critical review of up to five pages of a Word document, up to 12 presentation slides, or the equivalent.*  This includes:
Summary comments 
Scorecard identifying strengths and weaknesses across multiple communication dimensions
Recommended revision strategy suggesting next steps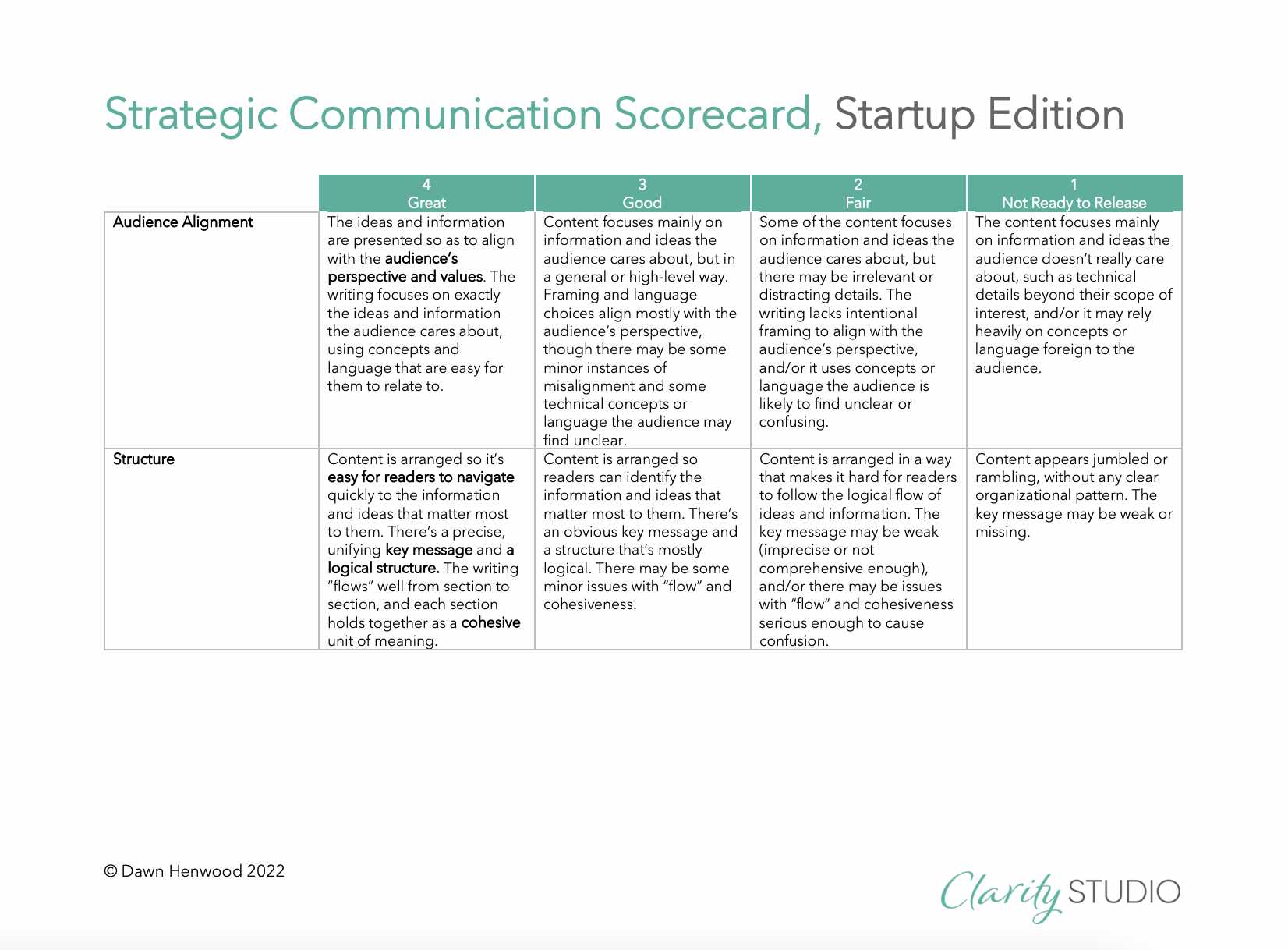 * For longer documents or infographics, please ask for a quote.